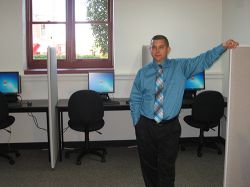 Grundy-Kendall Regional Office of Education (GKROE) has signed an agreement with Pearson VUE, the computer-based testing business of Pearson, to test candidates pursuing many educational and professional certifications such as the GED, the Test for Academic Proficiency, and many IT programs.
The tests will be administered in the lower level of the Kendall County Historic Courthouse located at 109 West Ridge Street, Yorkville, IL 60560.
Pearson VUE's advanced system administers exams on behalf of hundreds of businesses, boards, and organizations around the globe through the world's largest most secure test center network. The system enables candidates to register and reschedule their tests online at http://pearsonvue.com or through a Pearson VUE call center.
The list of certification tests available from test sponsors through the Pearson VUE system is continually growing. Test results are quickly transmitted back, ensuring the candidate' certification status is promptly updated.
 
GED test takers can register at http://gedtestingservice.com.
For more information, please call the Grundky-Kendall ROE at (630) 553-4168.