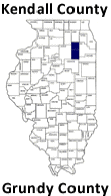 The Grundy/Kendall offices are located at 1320 Union St. in Morris and in the Old Historic Courthouse at 109 W. Ridge Street in Yorkville.  

Our outstanding licensure staff are willing to help you with all the necessary paperwork to keep your certification up to date.
Hours of Operation
M-F 8:00 AM to 4:30 PM closed noon to 1:00 for lunch



---
Until further notice the Grundy Kendall ROE is available by appointment only.  We are available by telephone and emails. 


If you have a licensure question, please include your IEIN in the email.


Kendall ROE Office, Bethany Thatcher - bthatcher@roe24.org
630-553-4168
Grundy ROE Office, Kay Mallaney - kmallaney@roe24.org
815-941-3247


https://www.isbe.net/Pages/covid19.aspx
http://www.dph.illinois.gov/
---
 Registration Fee Refund
Educator License with Stipulations - Paraprofessional (ELS PARA)
Public Act 100-0772 provides that any educator registering their Educator License with Stipulations endorsed for Paraprofessional (ELS-PARA) on or after July 1, 2018, shall pay license registration fees in the amount of $5 per year rather than $10. Any educator who registered an ELS-PARA between July 1, 2018, and October 16, 2018 may qualify for a refund.
---
NEW PROCESS EFFECTIVE DECEMBER 14, 2018:
ISBE will notify all individuals who are eligible for a refund and will begin processing refunds beginning the week of December 17, 2018, with all refunds scheduled to be completed by March 1, 2019.
Refunds will be processed to the credit or debit card used at the time of payment. No further action will be required unless the debit or credit card used for payment is no longer active. If the card used is no longer active, ISBE will require a W-9 form to process a check. W-9 forms should be mailed to:
Illinois State Board of Education
Division of Educator Effectiveness
100 N First Street, E-240
Springfield, IL 62777
---
GED passing score is lowered!
On January 25th, 2016, GED Testing Service® (GEDTS®) announced changes to the GED® scoring. Effective immediately in most states, including Illinois, the passing score for each GED® subject area is now 145 (rather than 150). Additionally, effective March 1, 2016, any test taken since January 1, 2014 with a score between 145-149 will be updated to show that a student has passed that subtest. If this change means a test-taker would have passed the full GED® battery, they will be retroactively credentialed (providing they have passed the Constitution Exam  as well as paid the appropriate certificate fees).  For more information about this change go to http://GED.com or http://www.gedtestingservice.com/testers/tester-score-change-faqs.
Changes to the GED® cut scores will not be updated in the ILHSE database until mid- to late-March.   Test takers will not be able to acquire updated state transcripts or a HSE certificate until the ILHSE database has been reprogrammed and the required certifications have been verified (i.e., Constitution, etc.). The Illinois Community College Board (ICCB) will provide more updates as soon as they are available.   
EvaluWise - Teacher Evaluation Software:
Find out how EvaluWise can help save your administrators two to three hours per evaluation. The EvaluWise teacher evaluation software and app is the single most effective digital tool for streamlining and improving the teacher evaluation process, regardless of the evaluation model you are using. Licenses for EvaluWise include free iPad and Android tablet apps to make data entry as simple and easy as possible.