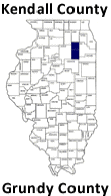 The Grundy/Kendall offices are located at 1320 Union St. in Morris and in the Old Historic Courthouse at 109 W. Ridge Street in Yorkville.  

Our outstanding licensure staff are willing to help you with all the necessary paperwork to keep your certification up to date.
Hours of Operation
M-F 8:00 AM to 4:30 PM closed noon to 1:00 for lunch



Our office is closed June 20th in observance of Juneteenth Independence Day.
---
Until further notice the Grundy Kendall ROE is available by appointment only. 
We are available by telephone and emails. 


If you have a licensure question, please include your IEIN in the email.


Kendall ROE Office, Bethany Thatcher
bthatcher@roe24.org
630-553-4168
Grundy ROE Office, Kay Mallaney
kmallaney@roe24.org
815-941-3247
---