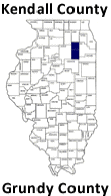 The Grundy/Kendall offices are located at 1320 Union St. in Morris and in the Old Historic Courthouse at 109 W. Ridge Street in Yorkville.  

Our outstanding licensure staff are willing to help you with all the necessary paperwork to keep your certification up to date.
Hours of Operation
M-F 8:00 AM to 4:30 PM closed noon to 1:00 for lunch
2016 SPELLING BEE
Nick will represent Grundy/Kendall County at the Scripps National Spelling Bee in Washington
Left- Right- Runner up Elijah Oudyn (Parkview Christian Academy),  Regional Spelling Bee Champion Nick Winkelman (Cross Lutheran School), Christopher Mehochko (Grund/Kendall Regional Superintendent)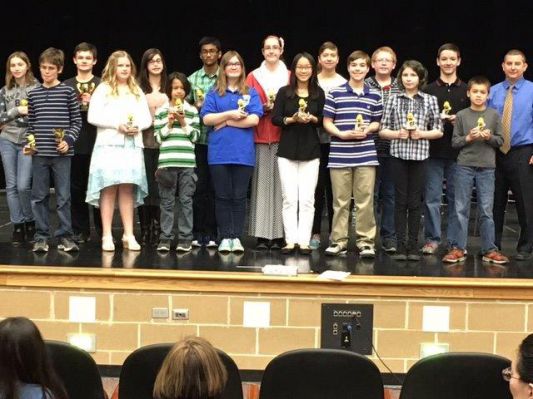 Back Row (L-R) Jacqueline Jollay (Lisbon Grade School), Nick Winkelman (Cross Lutheran School), Hayden Flodstrom (Plano Middle School), Vignesh Reddy Vakati (Bednarcik Jr. High), Kaylee Roether (Shabbona Middle School), Carolyn Kainz (Thompson Jr. High School), David Gates (Saratoga Elementary School), Matt Grant (Nettle Creek Elementary School), Christopher Mehochko (Grundy/Kendall Regional Superintendent)
Front Row (L-R) Elijah Oudyn (Parkview Christian Academy), Ashley Frideres (South Wilmington Grade School), Tommy Kaufman (Yorkville Middle School), Sarah Engle (Minooka Jr. High School), Carson Busby (Traughber Jr. High School), Will Hornsby (Immaculate Conception School), Haley Eggert (Millbrook Jr. High School), Josiah Gulbro (Autumn Creek Elementary School)
GED passing score is lowered!
On January 25th, 2016, GED Testing Service® (GEDTS®) announced changes to the GED® scoring. Effective immediately in most states, including Illinois, the passing score for each GED® subject area is now 145 (rather than 150). Additionally, effective March 1, 2016, any test taken since January 1, 2014 with a score between 145-149 will be updated to show that a student has passed that subtest. If this change means a test-taker would have passed the full GED® battery, they will be retroactively credentialed (providing they have passed the Constitution Exam  as well as paid the appropriate certificate fees).  For more information about this change go to http://GED.com or http://www.gedtestingservice.com/testers/tester-score-change-faqs.
Changes to the GED® cut scores will not be updated in the ILHSE database until mid- to late-March.   Test takers will not be able to acquire updated state transcripts or a HSE certificate until the ILHSE database has been reprogrammed and the required certifications have been verified (i.e., Constitution, etc.). The Illinois Community College Board (ICCB) will provide more updates as soon as they are available.   
EvaluWise - Teacher Evaluation Software:
Find out how EvaluWise can help save your administrators two to three hours per evaluation. The EvaluWise teacher evaluation software and app is the single most effective digital tool for streamlining and improving the teacher evaluation process, regardless of the evaluation model you are using. Licenses for EvaluWise include free iPad and Android tablet apps to make data entry as simple and easy as possible.
Parents and Guardians:
Download the Teens, Decisions and the Law publication to get critical information to help you guide your adolescent child toward healthy behaviors that avoid vehicle crashes, arrests, addiction, and other problems.
FINGERPRINTING BUS DRIVERS & STUDENT TEACHERS:
We are now a licensed Third Party Fingerprint Vendor and are able to fingerprint Bus Drivers and Student Teachers.